← Back to News & Opportunities
WKP Artist Spotlight: Justin Chirico
By | September 08, 2022
Justin Chirico is a new and emerging artist that is bound to provoke, bewilder and surprise audiences with his debut solo-exhibition, 'Sorry For Destroying Everything You Loved.'
As the chosen artist for the WKP Kennedy Gallery's first annual Emerging Artist Curatorial Mentorship program, Justin Chirico has been working closely with the gallery's curatorial team to present his very first solo-exhibition.
With Justin being an exceptional screen-printer, the show will feature a broad collection of screen print artworks as well as other original pieces. As the artist states, "the show explores the cyclical nature of tragedy and loss through the repetition of well-known imagery and events. The work combines various historical events and images with prominent figures in popular culture to create decontextualized narratives within each piece."
Do not miss your chance to experience the debut of this promising local artist. 'Sorry For Destroying Everything You Loved." The Opening reception will be held September 9th 6-9pm and the exhibit will be on view September 9th-November 10th during regular gallery hours.
In anticipation, we sat down with Justin to learn more about his artistic practice and what he has planned for his upcoming solo show…
Tell us about your upcoming solo exhibition?
The exhibition will be a culmination of historical imagery and pop culture made to form or reference conflicting narratives. Though individually, some themes may seem esoteric, the works, when viewed in unison, act as a reflection of ourselves and humanity. In short, this exhibition is to champion all the ugliness in this world.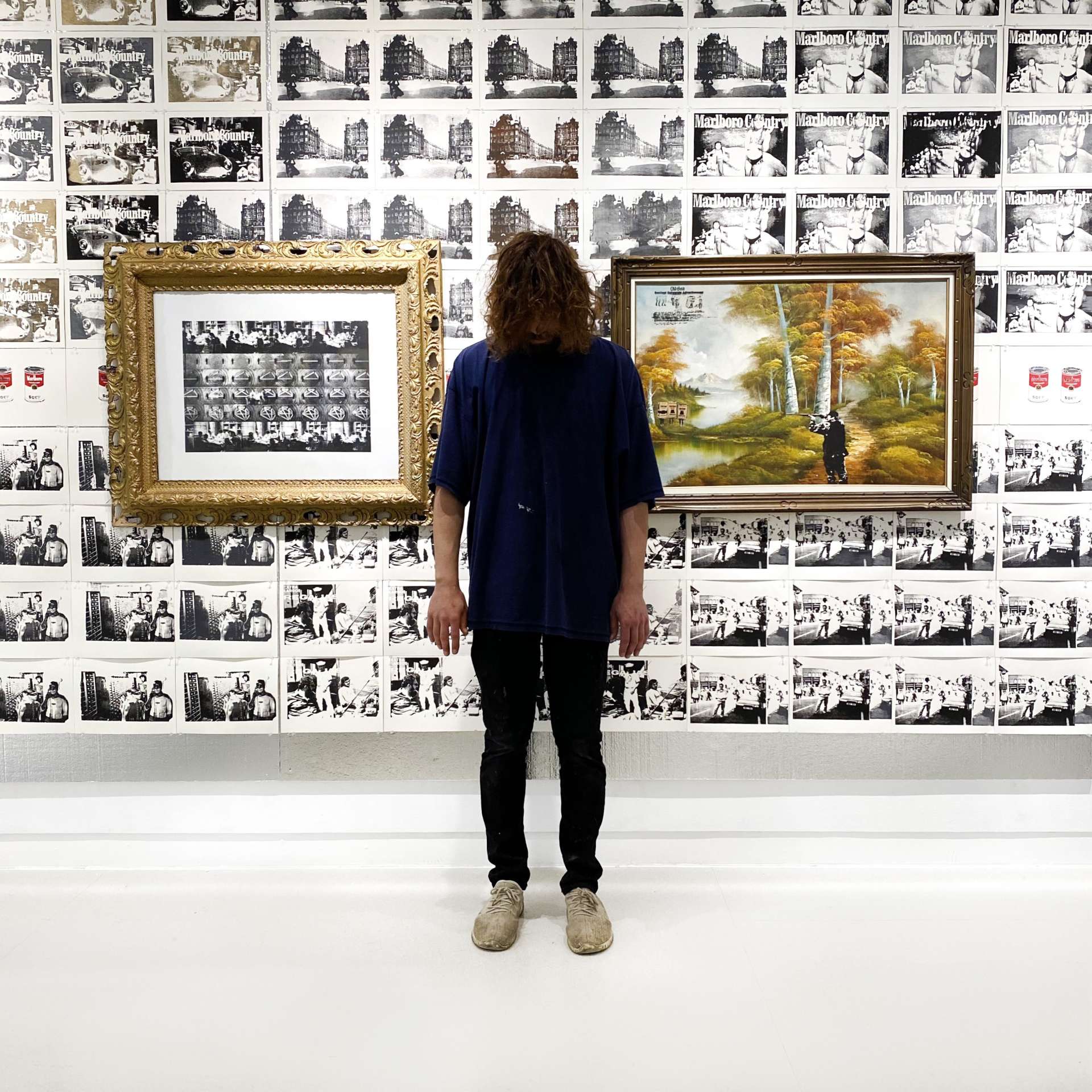 What is your main source of inspiration for your current works?
It's difficult to pinpoint an exact source of inspiration for the works because they're somewhat of an amalgamation of various media. I try to reference everything, including books like Catch-22, to that documentary, I watched that one time about Evil Knievel, but for the most part, I'm just trying to challenge myself to create something that isn't awful.
Can you give an overview of your artistic practice? What are the steps involved?
I start with an idea; usually one I found while reading old issues of Playboy, and start building out a concept in Photoshop. I then belittle myself for the terrible idea and restart the process until I get something right. Next, I refine the idea, size it, and send it to the print shop. I use the prints to burn screens so I can create an image. I then entertain some existential thoughts where I guess the exact moment I screwed my life up. Finally, I transfer the images from the screen to a canvas.
Is there a specific medium you enjoy working with?
I make the majority of my pieces with silk screens. I've tried experimenting with other mediums, but I found this was the best method to recreate exactly what was in my head. As a backup incase I misinterpreted this question, I've never worked with her but most likely Miss Cleo.
Tell us about your studio setup. Where do you work? How do you work?
I do the bulk of my work in my Nan's basement. To burn the screens, I place them on a small structure of misshapen boxes below a flood light precariously balanced on a screwdriver jerry-rigged through a cupboard handle. Once those are set, I use an empty area of the floor to make images happen. Conveniently When the designs are done, I can just bring them upstairs so I can be critiqued and then admonished by Nan.
How do you define success as an artist?
Not being Poor.
Are there any artists you look up to or that influence your artistic practice?
Many. I was initially drawn to art when I first saw Andy Warhol's painting Green Car Crash (Green Burning Car I) so he's always been a significant influence of mine. When it comes to tone, I usually reference works by Francis Bacon along with Chris Ware, Peter Steele, and Brian Wilson. In terms of composition, I like to reference work by automotive designer Carroll Shelby and architect Ludwig Mies van der Rohe.
Do you have any advice for new artists?
Find an artist you like and learn their techniques, take their ideas or ideas you have, and recreate them as they would. Do this over and over and over until the process becomes like clockwork. Once you've done that, overtly try everything to not be that artist. Eventually, you'll end up finding yourself.